Can some translate these hallmarks for me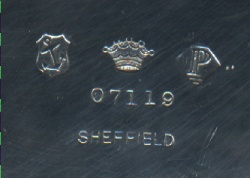 The item is silverplate with faux hallmarks. Sadly, these marks don't tell us anything.
Regards Jonathan
Those marks were used by an American firm called The Pairpoint Corporation, New Bedford, Massachusetts.
Founded in 1880. Stopped producing silver items around 1930.
I tip my hat to you!
I was misled as the marks look very much like the kind of marks found on British Victorian silverplate and I know very little on American silver.
Does this mean that the item might be sterling??
Thanks Jonathan.
I belive it's silverplated. In the U.S.A. solid silver pieces made after c.1860 are marked sterling or .925.
In the absence of these marks we have to assume the piece is silverplated.
The mark "Sheffield" is kind of misleading. It refers to their Sheffield reproductions line.
They did some very good work. Thomas J. Pairpoint apprenticed in Paris. Later, worked for Lambert & Rawlings in London. After coming to the U.S. he became the chief designer for Gorham from around 1868 to the late 1870's.
Snuffer.