hope you can help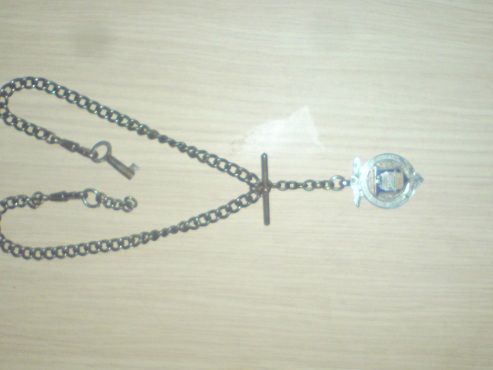 What you have is a watch chain with what is called a fob medal. The T-bar goes through a waistcoat buttonhole to keep the whole assemblage in place. A pocket watch is attached to one end and lives in a waistcoat pocket and the way you have it configured the other end with the key would go into the another pocket, The fob medal was presumably a special commission and given out perhaps to commemorate some special event. I assume ther is no engraving on the back as you don't mention it.
Without a detailed picture of the hallmarks I cannot tell you where or when it is from, nor even confirm that it is silver. The most likely time period is first half of 20th century.
If it is silver the fob medal would be worth up to £20. If the chain and T-bar are also silver (every link should be marked with the lion passant if it is) you can add another £30 (approximate values only).
its called an albert chain, and judging by the looks of it a quite nice one. In a general auction the prices are lower than ebay. People on ebay seem to pay over the odds prices for silver. It amuses me.