Can you help me identify the approximate year this was made?
Thank you and Merry Christmas.
Joe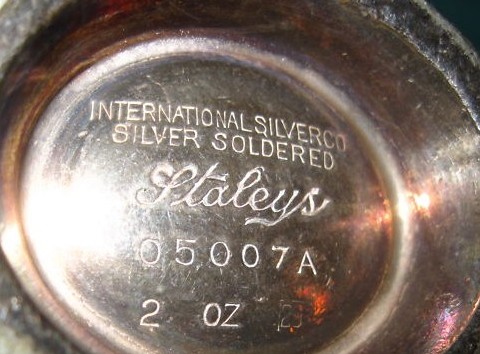 Hi there Joe and thanks for joining us. American silverplated goods almost never carry any date information and International is no exception. Of course, we know International Silver Co. was founded in 1898 so that is a starting point.
I'll take a wild guess - the inscription "Staley's" comes from Staley's Charcoal Steak House in Winston-Salem, NC which has been there about 40 or 50 years so perhaps it was used there and dates from the mid-20th century?
Regards,
Uncle Vic
Thanks for the reply Uncle Vic.

I am not sure though. Is there any way to use the number 05007A? How about the "soldered" process?
Thanks again,
Joe
Joe, the number is the pattern number and I'm not aware of any reference to International silver plate pattern numbers that would translate to a date. The "silver soldered" is a common term used for American silver plated goods and has no meaning beyond a fancy name for how the item was put together. Since virtually the only laws that the US has ever had regarding silver standards are that it is illegal to use the term "sterling" or "sterling silver" on anything but solid 92.5% (or purer) silver, the makers of silver plated goods went to great lengths to skirt the edges of the law and try to make the public think their goods were solid silver when they were not. Many manufacturers dreamed up fancy names such as silver soldered, quad plate, guaranteed triple, A+, etc to describe (or mis-describe) thier cheap goods in an attempt to pass them off as sterling to the uninformed.
The rule of thumb is that if American silver made after about about the middle of the 19th century does not exhibit the terms "sterling", "sterling silver", or "925/1000" it is not solid silver. "Coin Silver", which is usually 90% silver, was also common in the US until the late 19th century and was usually marked "coin" or with a "9".
Your item is silver plated and my guess would still be that it dates from the mid-20th cnetury. As is most American silver plate by the prolific makers such as International, it ahs little commercial value.
Regards,
Uncle Vic
Thank you very much Uncle Vic. I assume there is no way to track the patern number in any way.
The reason I am so excited about this piece is that I am a BIG Chicago Bears fan. In 1922 and for one year (their first) they were called the Staleys. I was hoping to tie this piece to them. I agree that it is nothing, but it would be pretty cool to me. 8)
Joe
No way to cross reference the pattern # that I know of. One more way to approach it…post a photo of the whole thing and maybe someone will recoginze the pattern and we can find it on the www.replacements.com site and it may have a date associated with it. International had so many patterns it would be a needle in a haystack to just scroll through all those patterns.
Does the word "staleys' have some meaning?
Regards,
Uncle Vic
The Bears were originally the Decatur Staleys. They were owned by AE Staley who owned a grain business in Decatur Illinois. George Halas was the coach and a Player. When several teams met in Canton Ohio to form what is now the NFL, Staley gave Halas $5,000 to keep the name Staleys for a year. They played at Wrigley Field so Halas thought the Bears name appropriate. Halas made Dutch Sternam his partner then. They became the Chicago Bears January 1922. The team mascot is Staley the bear to this day.
Thank you . I will look as you suggest. I am going to do further research as well.
Now I see…your item could easily date pre-1922. Is it possible tht there was a retailer in that area with the trade name Staleys? It was very common back then for retailers to put their name on silver they sold. But I like your suggestion the item is part of the Bear's lore.
Keep us posted.
Uncle Vic