Sorry, I only have a crude sketch of this hallmark, but any information I can get would be greatly appreciated.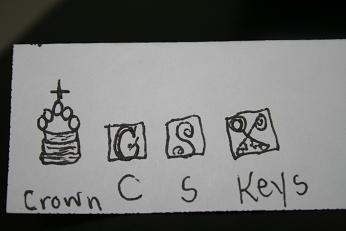 It looks to be a silver plate mark, but I can't find any reference to it in my books. Hopefully someone else will recognise it.
All the best
Daniel
The mark is American and that of the Goldfeder Silverware Co. Inc. which was established in Yalesville, Connecticut in 1932 and manufactured silver plated holloware. The mark you show was used prior to 1947. After Jan. 1, 1947 the mark is the crown, then the words "silver on copper" then the keys.
Thanks for joining us here on silver-collector.
Regards,
Uncle Vic
Thank you both for your help. Kelly