Hello. I'm so glad to be joining such a forum to look at everyone elses "finds" and seeing/reading how they're identified and what everything means (duh look on my face). I'm a private collector that has well over 400 pieces of flatware and etc. I absolutely LOVE all of them and wouldn't part with any if my life depended on it (well, maybe then - but only then!). I only purchase, never ever sell (hence the "I wouln't part with any")
I've researched every piece and catalog each of them (giant folder crammed with paper), this one however cannot make it to the catalog yet (sitting next to lupe and magnifying glass for weeks now). I cannot find out who makes it, what year and what pattern it is (husband mad, wondering why I'm not in bed until 7am every morning for weeks now).
I'm now posting the two pictures that I posted before (not popular enough to get looks or answers) plus one other of the marks on back (cheap ass camera).
Thanks a million for looking (squinting) and I hope you can help me.
Starr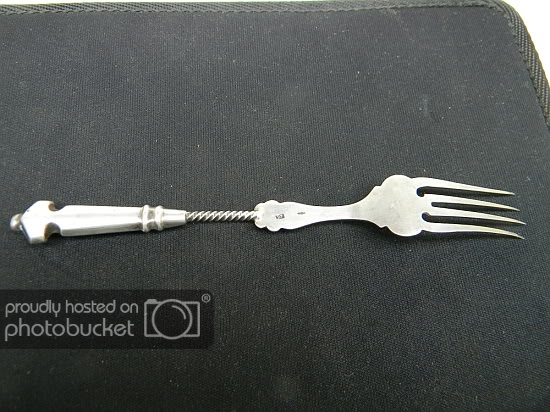 [/img]