Am struggling to find the identity of the maker, my gut feeling is it's plated but no EPNS or EPBM

Although the markings are a bit worn I'm certain that the letters to either side of the central shield are E P and N S. I don't know the manaufacturer but the S below P&Co implies it is most likely a Sheffield company.
I also have a piece with this mark, mine is somewhat clearer, it is the lid on a Wedgwood jasper ware jug from around 1898. Any insight would be appreciated!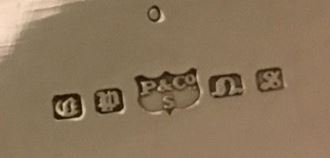 The letters are definitely EP and NS - electroplated nickel silver. But we're no closer to an identification of P&Co.