I found these two spoons and was wondering if they have any value.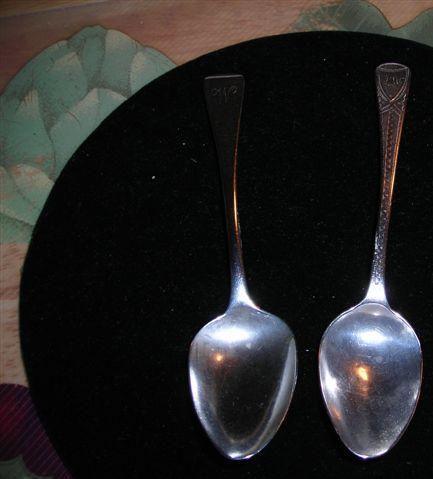 the U and the D dates the spoons. They are british lion passant - but we need a 5th mark to determine city. Without city mark they are proberly london.
To start looking at various cities for yaermark it s a bit tricky. And someone knowing english hallmarks better might be able to see from teh picture
William Summers ??
Well thank you for the reply… however these are the only marks on the spoons…so does that mean they are from London ?.. attached is another, better pic of the makers mark from spoon 2.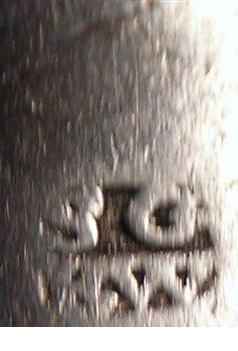 Hi there,
Your second spoon was made by Samuel Godbehere & Edward Wigan, they registered their mark 1787. It look like the date letter for 1799. The only thing missing is the duty mark, which should be present on silver made after 1784.
Cheers, Ben.
Well ty folks for your input, gotta love the name GODBEHERE, so one of my spoons is missing a city mark and one is missing a duty mark, but still seem to be quite old. Does anyone know if this is all that uncommon or why it might be so, and more to the point… as in my original question …do they have any value… oh and Ben… get website !!!
Thanks Gimmel! Hopefully people can learn a bit here and there and just enjoy pieces of silver!
Its not too unusual to not have a city mark on spoons (you see it a fair bit with sugar tongs too). The duty mark is a bit more of a surprise, because duty was required by law.
In terms of value, they don't seem particularly rare or collectable, but one does look like it has some nice bright cut engraving on it. We didn't actually establish whether they are teaspoons or tablespoons? If they are tablespoons, similar ones sell on ebay for between 10 and 20 pounds (the bright cut one would be up the higher end, the plain one down the other).
Maybe they could be the start of a new collection!