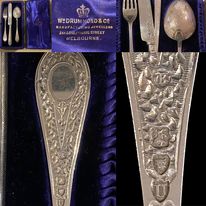 I recently acquired this box set and was told it was a christening set in its original box, and that it was sterling silver. It appears to be in excellent condition, what do you think?
Help with Hallmarks, please.
I like it because Drummond is my husbands' surname.
Any idea of the value?
Would anyone be able to translate the calligraphy of the initials, hope I've got good enough photos.