Trying to give the house a sort of Regency makeover, a month ago I bought a totally blackened little salver/tray to go on my hall table which seemed to fit in with the scheme. Had no idea what it was made from but thought it could be EPNS and laid out the princely sum of 50 pence for it. Yesterday I washed it, dried it and buffed it with a silver cleaning cloth. Hhmmm

Did that a few more times,

blinked

, then hit the internet.
This is what I "think" I found out. It is Sheffield silver made by Younge, Greaves and Hoyland. It appears to bear the Kings head duty mark for 1784/5 but I am stumped on the date mark which requires a tremendous leap of faith to resemble the Sheffield mark for 1785 although I have convinced myself I can see "1784" etched on the reverse "when it was made". It's 51/2 inches in diameter and stands on three hollow feet, but it is very thin/lightweight and has a few dinks on the outer rim.
Shame about the monogram (and my dirty finger marks on the edge)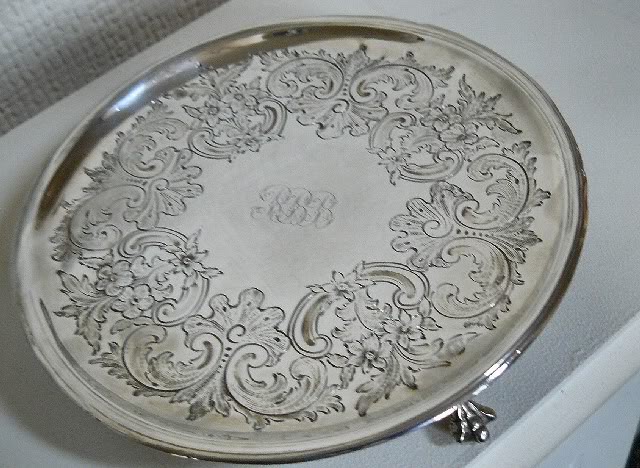 Hope you can shed some light on the date mark and please tell me you can also see "1784" top-left.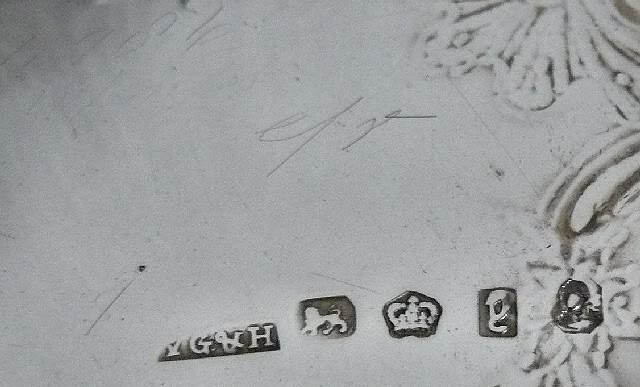 What do you think? Should I treasure it or leave it on the hall table for some numpty to throw his car keys on