Can anyone date this mark please. Could it be 1741.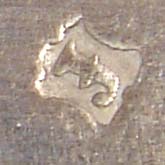 Looks like it is but we really need the full set of marks to be sure.
The assay office mark is essential for dating as each city office used the alphbet letters in different years. For example, if yours has a Leopard's head then it could be London, 1741- but only if the Leopard's head is crowned! London marks are a little easier to date than others because the city mark (Leopard) changed at intervals. The Leopard was crowned until 1821 then he was demoted - no crown from 1822 onwards. Please post pics of at least the three assay marks.