Anyone help me with this Glasgow hallmark?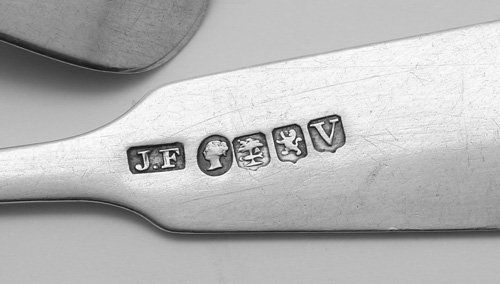 That is the Mark of John Fetter, with a date letter for 1840.
Hope this helps.
Paul.
Edinburgh Incorporation of Goldsmiths lists a J.F mark as that of John Fettes (full name John Alexander Fettes), but Fettes's marks appears to date from the early 20th century. There are a number of other J.F marks which relate to the earlier period and which are listed as "unidentified"
Thanks very much for your help guys. It seems this one has to be classed as unidentified then?
Jackson has this mark "J.F" as a John A Fetter, listed in Glasgow Goldsmith recorded from 1843 to 1903, with the proviso that the date on which the mark was first used is unrecorded.
I believe that Jackson's John A Fetter is the same as John Alexander Fettes recorded by the Edinburgh Incorporation of Goldsmiths and that his dates will be at the end of the 1848 to 1903 period. The mark is recorded as mark number 106 on registration plate 6, whereas other "unidentified" J.F marks are variously recorded on plates 2 and 3. Assuming that the plates are chronological then "unidentified" is more likely than Fetter/Fettes.
Re the Scottish silversmith with the initials "JF"… is it possible that this refers to Joseph Fulton - a Scottish silversmith, born in Glasgow in 1806… then moved around 1830 to Bristol,England???
This gentleman was my great grandfather and I am searching for some of his spoons or other items that he made… I would appreciate hearing from anybody who might know of this man & his work… Thank you for any help that you might be able to provide… MsDinny…