see photo. can anyone help? golzberlin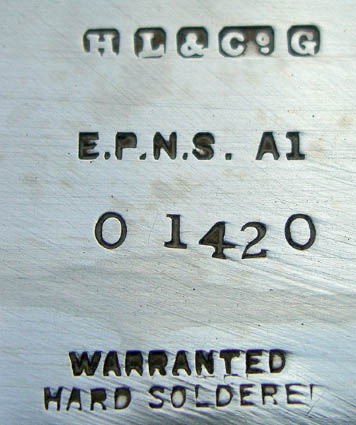 I believe that is a silverplate mark used by Hamilton Laidlaw & Company of Glasgow Scotland.
First half of the 20th century.

silvermakersmarks.co.uk/Make … eld-H.html
Thanks so much!!!
The above URL shows the hallmark and confirms your statement
I'm attaching a photo of the teapot
Thanks again
Ron Golz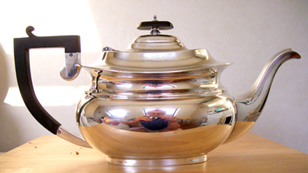 No, the web page does not confirm this. The maker's mark shown for Hamilton Laidlaw & Co is for sterling silver, not electroplate. Note that the characters of H L & Co on the teapot are in separate boxes rather than all being in a single box, so the mark is not the same. All it does is to confirm that Hamilton Laidlaw & Co used the initials H L & Co as a mark on some of their products. However, I believe that snuffer is correct with this attribution.

Dear Silvermakermarks
thanks for your additional information on what EPNS A1 stands for.
that kind of rounds off the information I required.
both you and snuffer were a great help!
i'll just stick to the belief that the teapot from the OXFAM Charity Shop in Highgate Village (10 quid!!! but utterly blackened) is from Glasgow.
unfortunately there's no further information on the company Hamilton Laidlaw & Co Glasgow. in some way it must have moved to sheffield as it appears there as a sheffield registered company.
regards
ron golz