Help please. What is this? and does anyone recognize these hallmarks? are these silver or gold hallmarks?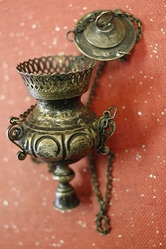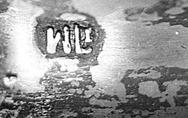 Hi, all I can say is it's certainly not gold, I'm not sure if it's silver, I've never seen these marks before
It`s a Church piece to burn incence you could call it an "Incence Burner"
Hope this helps
Hi, I think the marks are Russian if so the 84 is a fineness standard 87.5% silver. Someone more familiar with Russian marks may be of more help.
Regards,
Tony
Further to the Incence Burner the proper name for this item is called a "thurible"
You place burning /hot charcoal in the bottom of this (The bulbous bottom) by lifting the top through the chains put down the grilled top place incence in it its usually Frankincence you burn in one of these
These usually have 3 chains to them the third chain stabilises the burner so as not to upset it , if it only had 2 chains it would be libel to tip up The centre chain pulls through so you can top up the incence
Its a very rare item and if it is Russian I should think the hallmarks would be contemporary with the last of the Romanoff dynasty. Probably used by the Russian orthadox church, You usually see them at the head of a prossession of priests where they wave this about and cause clouds of fragrance.
Have a smell of the grilled part of this it may still retain some sort of incence smell
Hi, I've had an idea that if the marks are Russian, although many neighbouring states had a similar marking regime, e.g. Baltic states, the marks containing the 84 will provide useful information. The bottom line looks like 1895 but the details on the top line may give the assay town and possibly assay master. Should you be able to read that top line someone may be able to help with the interpretation. The other mark is almost certainly the maker.
Regards,
Tony