Hello,
Can anyone assist in explaining / interpreting the hallmark stamps?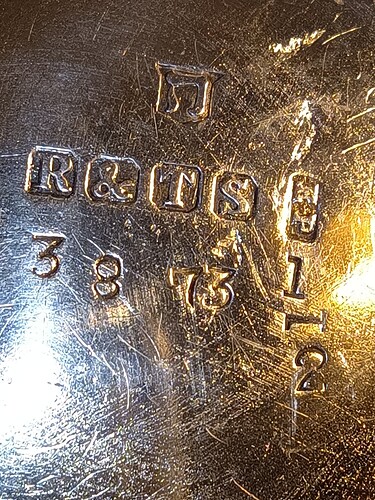 Thank you all in advance.
This is not a combination of marks I have come across before. One thing is almost certain though - it is not silver as EP almost always stands for electroplate(d). Conventionally British electroplaters' marks comprise their initials and one letter standing for their location. Here then we most likely have a Sheffield company with the initials R&T.
From my point of view the particularly interesting thing about this mark is the Hebrew letter "he" above the initials. In this form and with this punch shape it matches a date code used by the prolific Sheffield company Walker & Hall, well known for both silver and electroplate. They used a private date-coding system for their electroplate and this letter is one of a series used by them around 1908-1912. I have never seen a W&H date letter on a non-W&H piece.
Phil
Hello Phil,
Thank you, that is a lot more info than I could come up on my own, and I am truly grateful. I noticed researching the name that there might be a possibility that it is connected to a person with same last name that someone is inquiring about an ancestor online, so perhaps thay might have some additional information as well. In the meantime, I will check to see how that affects the value and if there is a market for this oddity.
Thank you Phil,
Stan