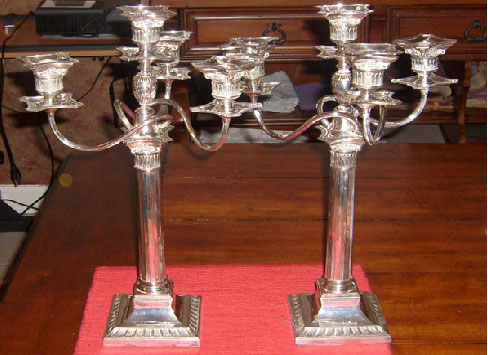 Yes, that is it…thank you very much!
What type of date range does the c. 1853 mean. It seems this company went through various incarnations and the mark changes to their reorganizations…I am trying to get as much background information prior to getting an appraisal.
They became "Ltd." in 1872 and added Ltd. to their mark.
So, your candelabra dates to before 1873.
That makes sense…there didn't seem to be any type serial number to further pin point it, but that is a fairly narrowed date range. My next step is to get an idea of the relative value based on the condition and the inherent value based on its features.
I figured that could be accomplished by a combination of both an appraisal and sales price information of identical candelabras…or if that doesn't exist then perhaps similar items giving some equivilancy. Using both sets of information to cross reference. Since the information is spotty so far I think the value is somewhere between 1500 and 10,000 dollars, but since I don't really know I'm trying to get a determination that I can trust.
Any suggestions?
I'm also curious about its future potential value. I've had them for years. They're very attractive pieces, but I was completely ignorant of their background and I wanted to change that…