Does anyone have any idea about this hallmark? It is on a silver plate.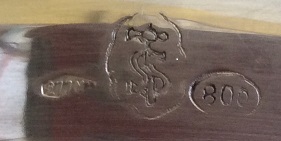 Would suggest Italian.
Although a clearer photo of the left hand mark would help.
Regards
John
Thankyou for that John, I cant get a better picture as am just using an ipad. I am now sure it is 277MI with you suggesting italian. I also found this info on line.
Italian Registration No.: 277 MI (assigned 25-3-1968) Image
Image
Manufacturers of Holloware and Flatware. In production since 1938 and onwards. This business traces its origins to the early 20th century and the firm of Ronchi, later Ronchi & Soldati, and then Soldati. In 1938 Marco Dabbene acquired the business and it is now in the hands of Roberto and Armando Dabbene.
… with the help of Anna Clerici, Finarte Auction House, I identified the mark "hammer and S intertwined" presented in March 2006 Newsletter of ASCAS.
It belongs to ditta Mario Soldati, Largo Treves 2, Milan. This firm was bought in 1938 by one of its workers, Marco Dabbene. The firm is still active and belongs to Dabbene family.
I cant find any pieces for sale or sold, or any other information about this.