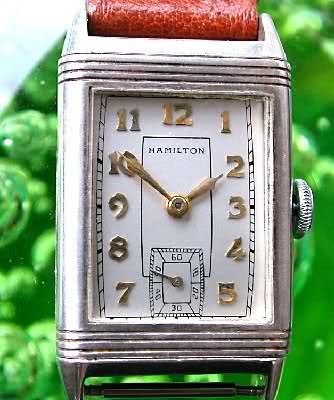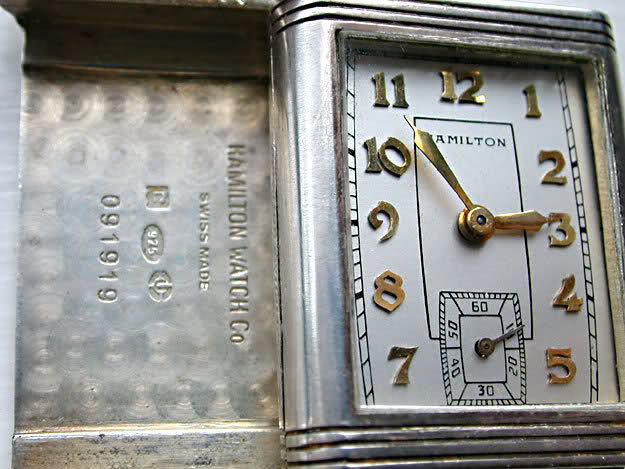 This Wristwatch recently came up on eBay it enraged the Watch community
as it was a Faked Watch.
I thought I would bring this to members here to be aware of any more that
may be listed on eBay or elsewhere.
This one was billed as :
HAMILTON Otis~Sterling SILVER "Reverso" vintg. w.w~1939
there was 14 bidders for it and it finally went for US $1,137.00 or nearly £800
Some members here may recognise the case on this as being very similar to a
Jaeger Lecoultre "Reverso" the history of the reverso goes back to 1930 as
Jaeger Lecoultre bought the patent in 1931, The American Hamilton Watch Company
were also interested in the Reverso patent, Unbeknown to Hamilton which were in
talks to acquire the patent Jaeger Lecoultre beat Hamilton in finally purchasing
the patent, But this was not before Hamilton had started to produce the Hamilton
"Otis" model which used the Reverso patent , I am not sure how many "Otis" models
were produced , before Jaeger Lecoultre started a long drawn out Patent infringement
suite against Hamilton , Top and Bottom was Jaeger Lecoultre held the patent and
Hamilton had to cease their production of the "Otis", As I said only a few Hamilton
"Otis" were made and as such are a very rare Wristwatch.
I was immediately suspicious of this listing as I looked at the Hallmarking on this
Watch it struck me as odd,
The case has got an English assay import mark "reversed omega" for a London import
and a date hallmark for 1920 as near as I can make out ???
Can members here varify that above date. but no import sponsors mark
Then again why should an American made watch with Hamilton Stamped on it, have to
go through the English Hallmarking system at all
Also If I am right in the Date mark on this watch the Datemark predates the Patent
by 10 years.
Hope this helps other members