I need a little bit of help i obtained these "sterling silver" spoons from my step dad and i was wondering what they were worth/rarity of them, they are stamped stearling and i did some pics and stuff i will post them here, i never saw the same spoon on the internet.
Founded by D.C. Jaccard and A.S. Mermod as Mermod & Jaccard,
becoming Mermod, Jaccard & Co. in 1873. Goodman King joined the
firm in 1865 and the name was changed to Mermod, Jaccard & King
Jewelry Co. in 1905. Primarily retailers and jewelers, also made some
sterling and silverplate flatware, holloware and souvenir spoons, but was outsourcing all of its silver
manufacturing by 1890.
Spoon was made in 1873-1904. because it was stamped mermod & jaccard co.
I drew this myself i will show you what the weird markings are

The markings look like this without the boarder over them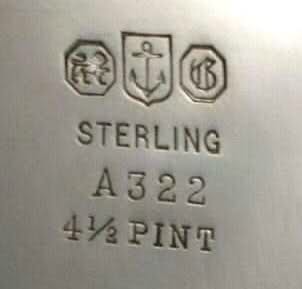 here are the pics i took myself