PAIR OF SALVERS
DATE MARKED 1768 MAKER EBENEZER COKER
17.5CM WIDE AND EACH WEIGH 300 GRAMS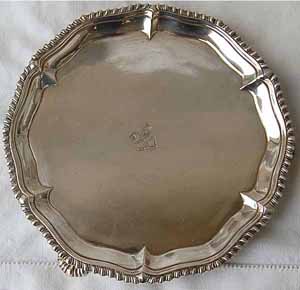 Can you post a picture of the hallmarks??
Elizabeth Cooke's mark is often mistaken for Ebeneezer Coker.
Also, do both salvers carry the same date letter??
These are quite valuable. I can give you a better idea after I see the marks.
Regards
Jonathan
Hello
Thanks for your reply.
Yes- they do both bear the same date mark. See image of marks attached.
Regards
Bob


Hi Bob,
sorry for the slow reply…
First, lets consider the makers mark. Ebenezer Coker registered his first mark in 1738 and it is a Roman 'EC' in a rectangular shield WITHOUT a pellet (the dot in between). The following year he registered a new mark which was a scripty 'EC' again without a pellet. Elizabeth Cooke registered her first mark in 1764 and this was a Roman 'EC', also without a pellet. No match so far.
Grimwades has an unattributed EC mark with a pellet which he suggests is probably either Ebenezer Coker or Elizabeth Cooke!!!
The National Museum of Women in the Arts (Washington) has a collection of silver by female silversmiths and released a book…
Women Silversmiths, 1685-1845: Works from the Collection of the National Museum of Women in the Arts by Philippa Glanville, Jennifer Faulds Goldsborough
In this book they attribute the E.C mark (with pellet) to Elizabeth Cooke and the piece they have is a salver. However, there are no details on what source they used to determine that the mark is that of Cooke.
My personal opinion is that the E pellet C mark is probably that of Elizabeth Cooke as I don't see why Ebenezer Coker would have changed his mark again.
The fact that your items are also salvers and Coker is most famous for candlesticks make me pretty sure that what you have are a pair of Elizabeth Cooke Salvers.
Does this effect the price?? Coker is a well known maker but women silversmiths are often collected. As such, I think the price would be more or less the same in either case.
I would value them at around £2000 replacement value for the pair.
Hope that helps,
Regards
Jonathan
Hi
Thank you very much for taking the time and trouble to provide such a thoughtful and comprehensive reply.
One last request for advice please - If I decide to sell them, would you recommend a particular method?
Regards
Bob