I know it's 9 carot, anyone have any idea of date or maker?
Thank you for any advice.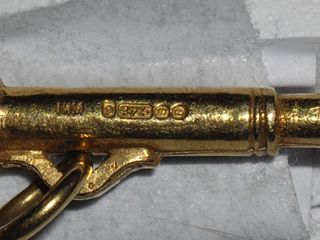 Your picture is not detailed enough to be absolutely sure. I don't know the maker (is that LM?). The date letter could just be the London lower case m for 1967 but without a higher magnification picture I really can't be certain.
hope this picture is better, many thanks.


I think it reads 'IHM' does anyone know if this is the maker ? or if not what it might mean?
The last mark is really hard to see, maybe a lion head, London. I'm sure your right with small m - 1967. Thanks very much for that.