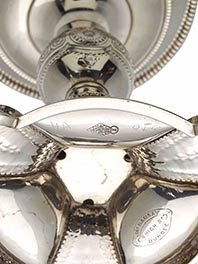 HI, please can anyone help us to identify this centerpieces ?
Your picture is far too small to see the details of the (kite-shaped) design registration mark. This will tell us exactly when the design of your centrepiece was registered. In the absence of a hallmark it is most likely that it is not silver so if you think it is silver then, when you post a better picture, you can also include a picture of any other marks you might find.
Phil
That is a Birmingham hallmark with the date letter g for the assay year 1881/82. The maker's mark, HW&Co, is that of Horace Woodward & Co. The lion passant (between the queen's head duty mark and the maker's mark) shows that it is sterling silver. If you want to investigate the Design Registration mark details of how to read it can be found here.
Phil