Can anyone help me to identify this silver hallmark please???
Enclosed picture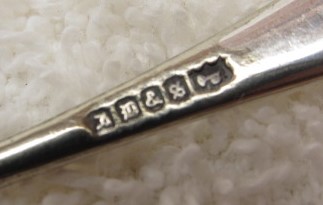 Not a hallmark and not silver unfortunately. This is an electroplate mark of James Dixon & Sons of Sheffield.
Thank you for your advise.
Would you be able to date it from the markings?
It actually is a very small spoon that belongs to a crystal salt pot.
Would James Dixon be the manufacturer of both items?
Dating electroplate is virtually impossible; late 19th, early 20th century is about as close as we can get. Dixons would not have made the glass. They were silversmiths and electroplaters.