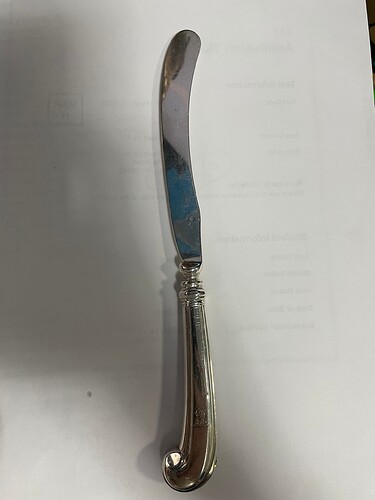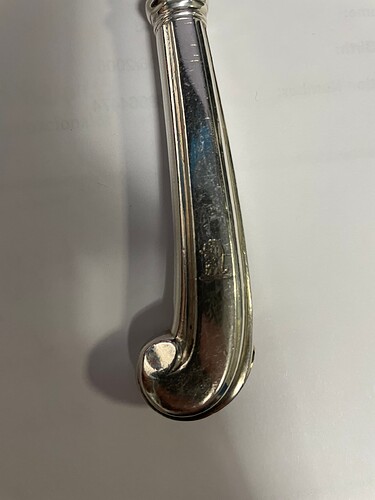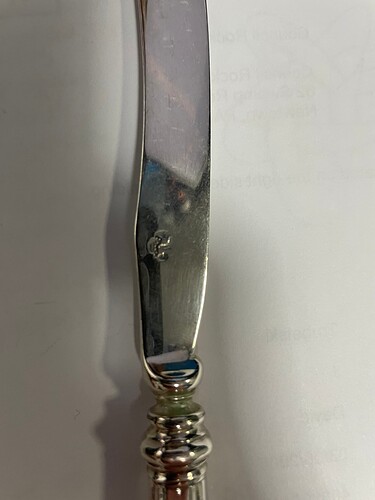 Hi, does anyone know what company this insignia is or any other information about the knife. Thanks!
May I make a suggestion? If you want folks on here to help you with identifying marks, whether they are assay marks or this sort of thing, it's best to take a clear high pixel closeup we can see? Silver is very difficult to photograph close up you have to get the shadowing exactly right. Some people use light boxes but a modern iphone and a steady hand will likely do the job!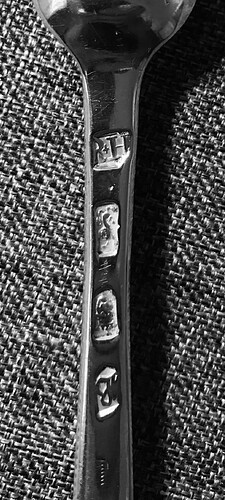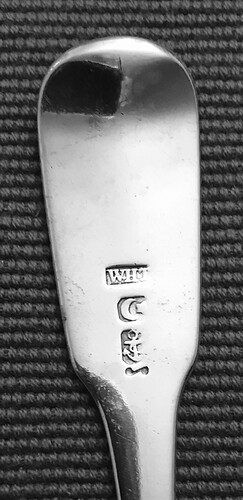 Here are shots of two items to illustrate the point.
One of them is the hallmarks on a London assay office marrow scoop with the makers mark R*H at the top and under it the sterling lion, followed by a crowned leopard and then the date of assay; 1757
The second is a teaspoon made in India in the early 19th century by W H Twentyman
Here's a bit about Twentyman from another Silver Forum:
On the marrow scoop, Phil Osbourn's excellent silver compendium shows the same RH mark:
https://www.silvermakersmarks.co.uk/Makers/London-RE-RI.html#RH
As you can see we will probably never know who the maker was as the politicians of the day, looking for ways to raise tax money, borrowed the assay registry records and forgot to return them.
Who ever finds those Goldsmiths registry records will have access to better information than either of the "bibles" of London silvermarks and can write an instant best seller!
CRWW