Does anyone ever heard about silvermaker "Pallotti" before? Any information would be greatly appreciated.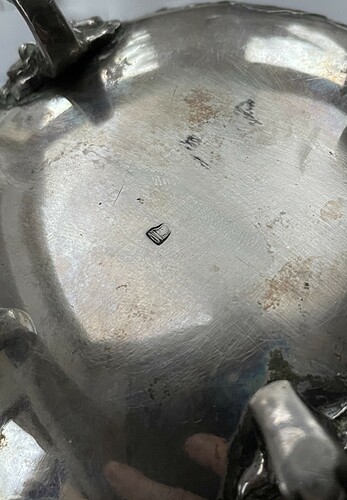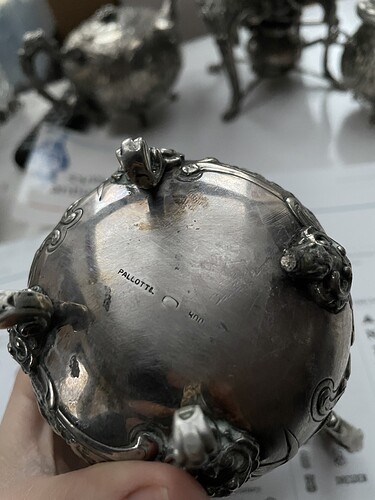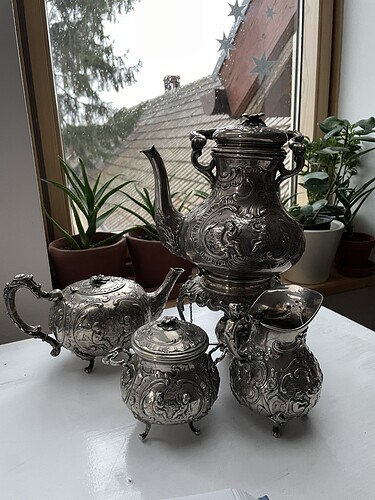 Not necessarily the same Pallotti but this link might help. However I note that you do not show an Italian silver mark which might rule this person out.
Phil
Thanks Phil. I don't know what to belive. I think this set was made before the classic Italian mark of the 20th century entered in use (1934), the lozenge mark identifying the silversmith number (+/- fascio) and the province. The style and also the tehnique indicates to the end of the 19th century or the first quarter of the 20th century. I found a piece made in the same style here ( https://www.1stdibs.com/id-f_19338501 ). The mark from the first picture attached intrigues me, I've never seen it.
The style of your tea set looks like a somewhat Germanized version of French Rococo, and that makes me think it may be from Hanau, Germany. Hanau has been a metalworking center for centuries, and in the 19th century specialized in reproducing styles from all over Europe, adorned with a kind of 'anything goes' marking system that made up hallmarks to go with the style of the ware. Pallotti might be a retailer's name. I would look at Hanau ware for a matching pattern or anything marked with a similar bell mark.