Hello please could I have some help ID'ing this spoon? I'm guessing it's from around 1830s but unsure. Thank you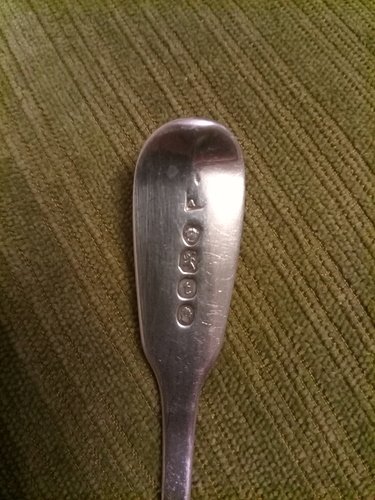 You seem to have made some sort of error posting your picture. Can you try again please.
Phil
Oops I have now fixed it.

That's a London hallmark with the date letter t for the assay year 1834/35. Although there is only one clear letter of the maker's name I am pretty sure that it is the mark of A B Savory & Sons, either AS over JS over AS for Adey Bellamy Savory, Joseph Savory & Albert Savory or just JS over AS for Joseph Savory & Albert Savory. Joseph & Albert were Adey's sons and they took the business over in January 1835.
Phil
Merry Christmas everyone!
I tried to find the marks on this spoon but without succes. Pleass help me.
[images deleted by Moderator - please start a new topic for your query]