Good day to all. I have here a Russian soup ladle or punch ladle. Please see the picture.
Jan


I know the 84 equates to silver purity of .875, and the initials refer to assayer Ivan Lebedkin of Moscow. I like the quality of the assayer mark and makes me believe the spoon is genuine. However, I cannot figure out the maker's mark. Clearly M.E.T., but who can this maker be? Any help or advice on the maker, please?
Regards
Jan
Good morning, all. With no suggestions coming in, I've had to keep on digging. What a search this has turned out to be! I at last found two silver articles bearing similar marks to my Russian punch ladle. Please see.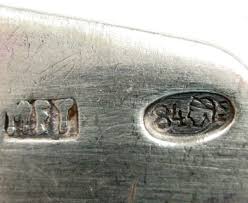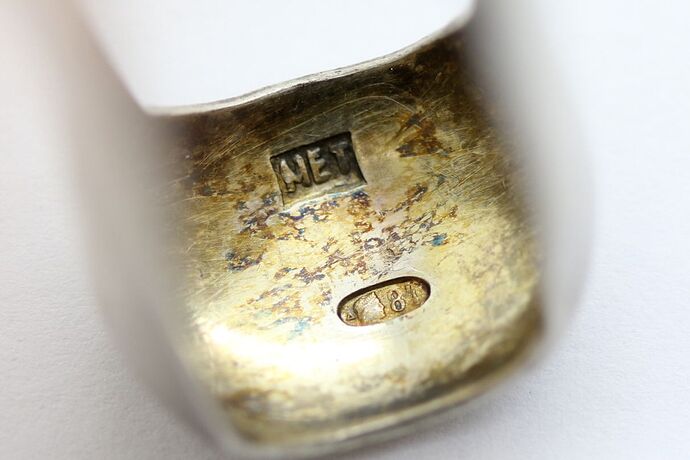 Friends, the top picture is of a spoon captioned as follows:
Country of manufacture: Tsarist Russia; Material: silver; Dating: late 19th early 20th century; hallmarks:
MET; 84 assay, the hallmark of the Moscow district assay office with the initials of the district manager Ivan Sergeyevich Lebedkin. Based on the book by M.M. Postnikov-Losev.
The bottom picture is of a pair of sugar tongs captioned as follows:
Silver sugar tongs #6951; Russian Empire; Silver; 84 Hallmark, Mark - "MET"; Weight: 38.68 g.
The hallmark on the spoon is the same as on my punch ladle, but the hallmark on the sugar tongs with the profile looking to the right date to after 1908. The two MET sponsor marks are similar but not identical, yet they differ in style from mine. All I can think is that my ladle, having been made between 1899 and 1908, carries an early MET mark which was redesigned as time went on. Am I making any sense?
All this searching has not brought me closer as to the identification of the MET sponsor.
Regards
Jan
Friends, in discussing this maker's mark with a casual friend, he pointed out to me that the letters MET probably are Cyrillic and not Western as I had assumed. The items pictured above are all Russian-made after all! I had not thought of it like that.
Please could anyone share some info on the MET sponsor? I have not come across any clues yet. Why would this name not be in the literature (so far as I know)?
Regards
Jan